黒い島
The domain of Kuroshima is a historical revival micro nation created by Japanese and Hong Kongese (And US Students) interns to revive a Imperial Domain as during the media restoration.
Religion
61.3% Lutheran Christian, 18.5% Korean Catholic, and the remainder being Shinto Bhuddist.
Flag
The national flag represents the Hibiscus and the purple Jesus/Daiymo's Royalty.
Entyomology
Kuro(i) comes from the Japanese word for black, and shima for island do to the blackish/greenish fertile land.
Territory
The scattered islands in the Hong Kong Sea are called the Hibiscus Isles and the mainland government is on an island off the coast of Japan.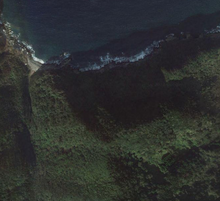 Ad blocker interference detected!
Wikia is a free-to-use site that makes money from advertising. We have a modified experience for viewers using ad blockers

Wikia is not accessible if you've made further modifications. Remove the custom ad blocker rule(s) and the page will load as expected.