Catan general election 2015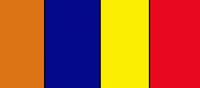 ---
---
A general election took place on the 30 April 2015. 70 seats were contested across the Kingdom of Catan. All 70 seats were won.
Background
The Election was announced after Daniel Carr announced his resignation. Parliament resigned an hour later.
Ad blocker interference detected!
Wikia is a free-to-use site that makes money from advertising. We have a modified experience for viewers using ad blockers

Wikia is not accessible if you've made further modifications. Remove the custom ad blocker rule(s) and the page will load as expected.