The 2015–16 Staatsdevisie season is the 2nd season of the Staatsdevisie  since its establishment in 2014.
Teams
A total of 8 teams will be taking part in the league: The best 5 teams from the 2014/15 Staatendevisie  and the best 3 teams from the Eerste Divisie
Irne Toppers demoted to the Eerste Divisie SC Laddas ,United Ja'alhomerhaven and Patavia United make his debut at the Staatsdevisie
Matches
Playoffs
Kickoffs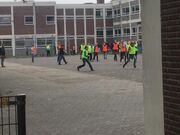 Final
Ad blocker interference detected!
Wikia is a free-to-use site that makes money from advertising. We have a modified experience for viewers using ad blockers

Wikia is not accessible if you've made further modifications. Remove the custom ad blocker rule(s) and the page will load as expected.